---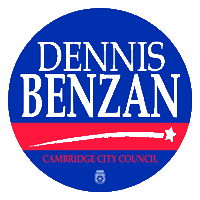 Why I'm Running
"LET'S GROW TOGETHER"
I am proud to announce my candidacy for Cambridge City Council. I do so out of my profound commitment to helping the great city of Cambridge grow into an even better place for the people who live and work here. Cambridge was the city of dreams for my parents when they migrated here from Puerto Rico and the Dominican Republic in the 1960s. And for me it still is.
Cambridge is the city my parents believed would give them the opportunity to work hard in order to improve their lives and the lives of their children; they were right. For nearly a decade my parents ran a small oil delivery business while also working in the factories that once dotted Kendall Square. At an early age, my brothers, cousins, and I took shifts helping my father deliver oil from one end of town to the other, from the MIT boathouses to the homes of low-income families who were receiving government fuel assistance during cold New England winters. We were up before dawn on the bitterest of cold days, and even as young teenagers, we all worked hard. With each oil delivery, I learned about the struggle of working families and developed greater compassion for people in need. I also built a strong sense of responsibility, an appreciation for the value of hard work, and the confidence that I could, if I gave it my all, succeed.
Background
Cambridge prepared me for the journey of my life: from a young child in Columbia Terrace to Blessed Sacrament School ('86); to Cambridge Rindge and Latin High School ('90); to Howard University ('96); to community organizer for the Cambridge Algebra Project (which promotes math literacy); to Roger Williams School of Law ('04); to lawyer at Altman and Altman, LLP in Cambridge and local homeowner. Today I am the father of six-year-old twins, India and Matteo, and the husband of Tanya Bacci-Benzan, an upper school vice principal in Cambridge. Both my wife and I grew up in Cambridge and are proud to be raising our children here. I have a brother that is a Cambridge police officer, and another brother that manages several restaurants in the Boston area. The Cambridge community has offered us the opportunity for growth and taught us civic duty and the importance of giving back to the places that have made us.
Cambridge with all its opportunities, all its diversity, and all its wonders helped to make me who I am. It supported my first efforts at real leadership when, in 1990, I and a group of fellow Cambridge Rindge and Latin High School (CRLS) students formed S.A.V.E., Students Against Violence and for Equality, in response to the violent death in the community of two young men, Jessie McKie and Rigoberto Carriòn. When I attended Howard University for my B.A, my CRLS teachers and mentors in our community continued to support me: they believed in me and wanted me to succeed. I worked my way through college as a carpenter and builder while squeezing in time to direct the City of Cambridge Youth Summer Jobs Program in the early to mid-90s, when Cambridge was revolutionizing youth advocacy work. My story, unlikely in most cities, has been a predictable Cambridge story – there are many in my generation and the generations before me who claim it. This was the legacy of the Cambridge I grew up in: tremendous opportunity.
The factories that my parents worked in are long gone, replaced with some of the most innovative and prosperous companies in the world. My neighborhood on Pine and School Street sits in the backyard of MIT, Novartis, Microsoft, and Google. Construction cranes are everywhere, the symbol of economic growth. This is how it should be: reasonable growth is appropriate, as there are many cities that would give anything to have what we in Cambridge have. But I suspect that I am not alone in worrying that there is a growing disconnect between the wealth and resources of the companies in our neighborhoods and the working families that live beside them.
Top Priorities
I'm running for Cambridge City Council—because I'd like to see the city of my dreams grow together and not apart. Indeed, I'm running for City Council because I truly believe it is possible for both the corporate and residential community to partake in Cambridge's prosperity and promise.
All our children should come to view companies like Novartis, Microsoft, and Google as places where they might have successful careers, not just as buildings in whose shadow they walk. Companies should be able to tap the vast wealth of talent that we have in our own city. But if this is to happen we will have to work together as partners to prepare our children for the knowledge-based economy that is unfolding all around us, an economy which requires math, science, and engineering and technology skills. We need to enhance the way in which our neighborhoods throughout the city interface with companies expanding all around us. I believe that with the right structure and opportunities for sharing ideas and concerns, companies and residents can work together to develop trust and shared priorities, preventing Cambridge from becoming two or three or four disparate cities, divided and knowing nothing of each other and all the weaker for it. Our city can and must explore how our private industries and our local residents can benefit from each other, making Cambridge a city of dreams for future generations.
Mission Statement:
My mission is to create a healthy, sustainable city for current and future residents by strengthening our economy so that it works for and benefits all Cantabrigians. One of my goals is to close the economic, educational, and social gap that so many of our youth fall through by further developing STEAM (Science, Technology, Engineering, Arts, and Mathematics) education. We are working together in an effort to build positive, long-term changes in policy actions to help address issues of fair housing and climate change that will go hand-in-hand with job creation and workforce development.
In my first term some of my accomplishments were:
Seniors:

Led efforts to lower the minimum income requirements so seniors and people with disabilities have access to affordable housing as part of the City's Inclusionary Zoning Program

Workforce Development:

Brought Cambridge community together to develop the policy on Science, Technology, Engineering, Arts, and Mathematics (STEAM) workforce training so all residents can share in the economic growth, innovation, and cultural richness that makes Cambridge unique
Initiated efforts to organize the largest and most comprehensive job fair in city history

Mom and Pop Economic Development:

Championed for small businesses to have access to affordable small retail in new commercial development projects

Building Development:

Engaged community stakeholders – from youth to church leaders to city agencies – to address violence, community policing, neighborhood beautification projects, and how to help all Cambridge residents thrive
Championed honoring the longtime cultural traditions of each of our close-knit neighborhoods through more music, food, and arts festivals
Goals for second term:
Seniors:

Increase access to smart transportation services
Lead efforts to create and development co-operative housing and retirement communities

Smart Growth and Development:

Utilize City-owned lots to create affordable housing
Ensure workforce housing supply continues to meet the needs of residents as commercial development surges so they can work, live, and play in our community
Enhance city squares to create safe and welcoming environments that bring Cambridge families together

Jobs and Education:

Continue leading efforts to develop a homegrown workforce for the innovation economy by creating STEAM career pathways from early childhood to Kendall Square
Continue to advocate for improved math and science instruction in our schools

Livability:

Strengthen our community's resiliency plans so residents are best prepared for natural disasters and emergencies
Implement sensible and uniform standards for street and sidewalk infrastructure improvements

Arts & Community:

Improve the quality of our public squares by leveraging partnerships with the private sector and local arts community to enhance our public spaces
Advocate for the creation of affordable art studio spaces in new development
CCTV candidate video (2015)