---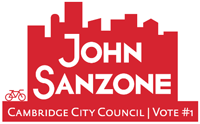 I have ended my campaign for Cambridge City Council.
Recently, horrible things I said and posted online from my younger days have come into the spotlight and there is simply no political way forward for me as a candidate. [On Sunday], I was leaving a slate of great candidates who didn't want me to leave, in order to join a slate of candidates who wanted me to join. By late Monday morning, I was political anathema. I am not a racist, nor homophobic, and am in fact firmly progressive and take these issues very personally and aim for a city government that takes them very politically. However, the revelations of these confused, misguided, nonsensical writings from my past---which I wholeheartedly own up to, and condemn---have made me untouchable.
I believe I had a great deal to offer this city in a great many ways, and would have been a passionate voice at the table for sustainability, livability, and equity, largely through the lens of transportation and socioeconomic justice. I would have worked tirelessly to craft meaningful, thoughtful policy for the city I have come to love deeply and intimately.
I am withdrawing completely from Cambridge public life, with a great deal of regret, because I truly feel I could have been a respectable public servant long into the future and helped create a truly special Cambridge. This is painful. There is much in my life that I wish I could undo, but alas even the pointless, terrible, and obscure can come back and wrench your very purpose of being. Over the last few years, I made Cambridge my everything, and whatever I was in my younger days has nothing to do with who I am today. I'm sorry I was not a better person. [Oct 27, 2015]
---
John believes that Cambridge has a unique duty to be a leading model for progressive urbanism.
1. FIX OUR STREETS AND TRANSPORTATION NETWORK
Implement the Cambridge Bicycle Network Plan.
Expand the "complete streets" model. Create more vibrant, interesting, and safe streets like Vassar Street and Western Avenue.
Create more people-first streets and plazas, like Winthrop Street in Harvard Square, and Longfellow Road. Encourage creative and progressive design by engaging our local talent.
Focus on our local transit infrastructure. Improve Cambridge's T station amenities, enhance local bus stops, and pilot dedicated rapid bus lanes.
Prioritize parking maximums over parking minimums for new development.
Build intersections and street crossings to the highest multi-modal standards. For instance, transit priority signalization, raised intersections, and bicycle intersection phasing.
Safe routes to schools everywhere in the city.
Commit Cambridge to Vision Zero.
Complete the Grand Junction Path and the Cambridge-Watertown Greenway. Find more opportunities for multi-use paths and linear parks.
Re-envision our major streets as multi-modal transportation corridors, cultural destinations, and thriving, people-first business districts.
2. HOLISTIC AND INCLUSIVE PLANNING
As the citywide planning process continues, bring in talent and voices from across the community in a meaningful way.
Overhaul Central Square, with recommendations from C2 and ongoing community conversations.
Implement Connect Kendall Square and transform the neighborhood into a hub of sustainable transportation.
Do substantially better with Fresh Pond-area planning. Great urban design and an excellent mobility network must come along with new development.
Broaden our city-wide conversation about density.
Streets are public places. They should be designed as such.
We must collaborate with our city neighbors like Boston and Somerville when it comes to transportation, development, and social services planning.
Create more effective public spaces by selectively abandoning parcel-by-parcel open space requirements, and instead pooling into grander-scale open spaces.
Take a hard look at refining inclusionary zoning and improving affordable housing standards.
3. IMPROVE LOCAL PARTNERSHIPS
Reconnect Cambridge with the Charles River and build community around it.
Continue to foster historic preservation and neighborhood conservation, and further develop programs where preservation and restoration overlap with affordable housing and streetscape improvement.
Celebrate investment and work constructively with developers to maximize community benefits. Clearly define these benefits as part of an expanded planning process.
Partner with MIT and Harvard on planning, development, and transportation issues, with a special focus on gateways and intra-campus mobility. Engage the creative and brilliant talent pool within our borders to design a better city.
Work with the Cambridge Redevelopment Authority more often to get things done.
Create highly active and model programs with local youth and university students to enhance and care for our public spaces. Restore values of stewardship, and encourage creative design and programming.
Bring non-traditional and non-politically active members of the community into important conversations – for instance, those who can't attend meetings, non-native English speakers, Harvard, MIT, and Lesley students, and more youth.
CCTV candidate video (2015)