---
Jeff Santos is a new candidate this year.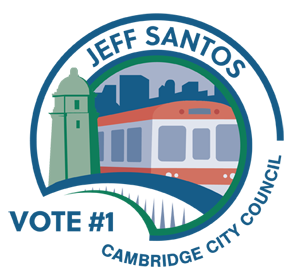 Jeff Santos - A New Voice for Cambridge
Jeff grew up in Massachusetts in the Fall River area. His Portuguese heritage makes him a natural for Cambridge which has the second largest Portuguese community in the country. He has been a Nationally Syndicated Progressive Talk Show Host for 18 years. Before that he was a News Producer and Reporter; a political consultant working with Progressive candidates running for local and national office; a volunteer on many campaigns (Gary Hart, Bob Kerry, Harris Wofford, John Kerry, Bernie Sanders among them). He has also volunteered for many issues: environmental (Greenpeace, NWF, Mass PIRG Bottle Bill), raised money for the American Cancer Society, the ACLU, DCCC, DSCC, Amnesty International, NEA. As a broadcaster, Jeff not only talks the talk, he walks the walk.
Political Values
On his radio show, Jeff has given a platform to leaders on racial and social justice issues (Jesse Jackson, Ben Jealous, Charles Ogletree, author and journalist Herb Boyd), income inequality (Bernie Sanders, Elizabeth Warren, SEIU- the Fight for $15, the Occupy Movement), trade issues (Jim Dean/DFA, USW, Scott Paul/Alliance for American Manufacturing), education issues (AFT/Randi Weingarten, Lily Eskelsen-Garcia/National Education Association), infrastructure (Gov. Michael Dukakis, Former Transportation Secretary Ray LaHood), environmental issues (former Sierra Club Executive Director Carl Pope, Massachusetts Sierra Club Director James McCaffrey, Rona Fried, CEO of Sustainable Business) and many others. Jeff believes in forging a stronger Blue-Green alliance between Labor & Environmentalists. These are the values Jeff believes in, has spoken about, has given a platform to and will continue to work on in the campaign and as a City Councilor if elected.
Core Campaign Issues
Jeff Santos is committed to making Cambridge a great place to live, work, and explore. Following are some of the issues important to Jeff.
Affordable Housing
The price of real estate has gone up dramatically in Cambridge. The high cost of rent is pushing out middle-class and working class families, changing the fabric of the city. Even city employees, like First Responders, find it impossible to afford living in Cambridge. Jeff is making affordable housing his top priority, and pledges to work with elected officials, community groups, and businesses to bring about a rational and workable plan to increase affordable housing. Jeff is proposing a 'Rent to Own" policy on new housing construction that would help to keep Middle Class families in Cambridge.
Preserving and Protecting Local Businesses
The dramatic increase in property values effects more than just housing: it is pricing out many local businesses. Small businesses are what help define the diversity of Cambridge, making it a warm and sustainable city. To protect them from hyper-inflation of the real estate market, Jeff is proposing using historical preservation funds to help maintain and subsidize the more compact buildings that small businesses are located in.
Infrastructure and Transportation
As Cambridge has expanded and developed, the infrastructure and transportation network has not kept pace. Jeff has long established relationships with elected officials at every level of local, state, and federal government, as well as thought-leaders in urban planning and transportation. He will forge partnerships and advance policies that will make infrastructure and transportation work for the people of Cambridge.
Environment
The economic expansion that Cambridge has experienced has raised the city's tax base, but it has also increased traffic and our Carbon footprint. Jeff is making specific proposals to decrease the city's energy and water consumption.
Endorsements:
Our Revolution - National Organization
Massachusetts Nurses Associaton (MNA)
National Association of Government Employees
Amalgamated Transit Union, AFL-CIO-CLC - Boston Carmen's Union, Local 589
International Brotherhood of Electrical Workers Local 2222
United Steel Workers District 4
Greater Boston Labor Council
Sheet Metal Workers International Association Local Union 17
IBEW 103
Internation Association of Heat & Frost Insulators & Allied Workers Union, Local #6
Steve Tolman, Massachusetts AFL-CIO President
John Businger, Former State Representative in Brookline for 28 years
James McCaffrey, Director, Massachusetts Sierra Club