---
About James: James Lee, a Cambridge resident since 1995, is a former educator, a published author and a business/finance professional. A longtime volunteer at homeless shelters in Cambridge, James is an advocate for the homeless. As a recently naturalized US citizen with a diverse international background, James stands for diversity of the city's resident population and speaks on behalf of its large immigrant and foreigner population. James is a graduate of Williams College and Harvard University (Ph.D.).
---
"One person can make a difference, and everyone should try."
-- John F. Kennedy
Dear Cambridge Residents,
I am James Lee, a proud longtime resident of Cambridge.
As someone who has recently become a US citizen, I am running for the Cambridge City Council because I care deeply about serving the common good of my beloved Cambridge community and my adopted home country, the United States of America.
Serving on the Council is a way for me to give back to this community and country that have welcomed me and given me so much.
I believe that Cambridge is the very best that America represents: a diverse, tolerant, well-managed and forward-looking community that is a model for the rest of the country, a "city upon a hill" to which other cities and communities can look for inspiration.
As a new first-generation American, I believe in the American Dream.
And I believe there is a need for someone like me on the City Council who understands firsthand the aspirations and struggles of the immigrant life and of all those from the four corners of this globe who come to Cambridge for work or study.
A native of South Korea who came to the United States at age 16 in 1984, I graduated from high school, college and graduate school all in Massachusetts, which is my home state.
For most of the years since 1995, I have been a resident of Cambridge where I obtained my Ph.D. from Harvard in 2003 and where I stayed on for work.
My work experiences include teaching appointments at Dartmouth College, Bowdoin College and Stonehill College and a long-running research affiliation with Harvard as a Center Associate at the Davis Center for Russian and Eurasian Studies.
Since 2007, I have also gained substantial experience in the business sector, with work at a boutique financial services & business consulting firm. This experience has taught me a lot about drivers of success for entrepreneurs and businesses small and large in industries such as technology, renewable energy and life sciences. It has also taught me much about non-profit organizations and governments at central and local levels.
I have always been passionate about serving the Cambridge community, having been a regular volunteer at the Harvard Square Homeless Shelter and St. James Summer Homeless Shelter in Porter Square since the 1990s as well as other community service programs.
My interest and participation in American civic and community life began during my high school years in Andover, Massachusetts.
I was then a foreign student freshly arrived in the United States, and many things about life in America were unfamiliar to me, but I decided to serve the local community in which I found myself. I started by volunteering at a mentoring program for inner city children in neighboring Lawrence, Massachusetts.
During my college years at Williams College in Williamstown, Massachusetts, where I majored in political science and art history, I volunteered at a mental health clinic in neighboring North Adams and spent a summer in 1988 as an intern at the headquarters of the campaign to reelect the late Frank Lautenberg, then a progressive Democratic US Senator for New Jersey.
I was placed in that campaign headquarters by SANE/FREEZE, a NGO in the peace movement that advocated a world free of nuclear weapons and verifiable nuclear arms reduction treaties with the Soviet Union.
I learned a lot about American politics then working with professionals such as James Carville, the campaign manager, and Paul Begala, the campaign press secretary, both of whom went on to play major roles in the election campaigns of President Bill Clinton.
Among the causes I fought for that summer was a boycott against a plan to store nuclear weapons aboard Navy vessels docked inside the New York City harbor.
I remain to this day firmly committed to causes of peace, environment & sustainable development, and a world free of nuclear weapons.
It was one of the great moments of my life when I became a US citizen about two years ago.
On a beautiful September day in the John F Kennedy Presidential Library in Boston, I attended my citizenship ceremony along with dozens of new Americans from hosts of nations around the world.
As I reflected on the meaning of that moment and looked around the smiling faces of my fellow new Americans, I came to personally appreciate fact that the United States is truly the first universal nation in human history, a nation of immigrants drawn from nearly every nation on the face of the earth.
November of last year was another great moment in my life, when I voted for the first time in US elections.
For me, exercising my newly won right to vote was not only a sacred duty but also a vote of confidence in the future of the United States, a wonderful country whose best days are still ahead.
And now, I am running for the Cambridge City Council because I am eligible not only to vote but also to serve the public good by serving as an elected public servant, something which I could not do in the past because of my lack of US citizenship, which limited my full participation in American government and community life.
My fellow Cantabrigians, it is with this story of my life that I ask for your support for my candidacy for the Cambridge City Council.
As a City Councilor, I will fight for you and strive to make Cambridge an even better place to live and work for everyone, not just the most vocal or deep-pocketed interest groups.
My fellow Cantabrigians, I look forward to representing you as your City Councilor with utmost integrity, honesty and professionalism.
If elected, I will work with my fellow City Councilors, the City Manager, the School Committee, the School Superintendent and all other relevant parties for a responsive city government serving the people of Cambridge, in effective partnerships with all stakeholders, whether they be neighborhood associations, businesses, labor unions, academic institutions or other non-profit organizations.
I invite you to read below my campaign platform outlining the issues and areas of priority.
And, please, do not hesitate to call me or email me for whatever reason that is on your mind, as I am most eager to talk with every single one of you. No issue on your mind is too trivial, and no problem is too big if all of us work together to make Cambridge a better place.
May Cambridge continue to be a beacon of light for the United States!
Sincerely and gratefully yours,
James
ISSUES OF PRIORITY: HIGHLIGHTS
AFFORDABLE HOUSING
I will fight to preserve and expand affordable housing for everyone, including families.
ENVIRONMENT & SUSTAINABLE DEVELOPMENT
We want a Cambridge where we can breathe clean air, see the blue sky and there are plenty of greenery and open spaces. I will fight for a livable Cambridge and against uncontrolled development.
EDUCATION, JOBS & ECONOMY
As a business/finance professional and a former educator, I understand education, business and the economy. I will work for excellence in our schools and good, high-paying jobs in Cambridge. I will support local small businesses and an entrepreneurial environment.
PUBLIC SAFETY & CRIME
For a safer Cambridge, I will support more and better policing, stricter gun control, and vigilance on the part of the residents, including community policing. I will strive to ensure a tragedy like the Boston Marathon bombing will not happen again.
DIVERSE, TOLERANT & PEACEFUL COMMUNITY
We must ensure Cambridge remains a diverse, tolerant and peaceful community that welcomes people from all over the world to our midst. I will advocate for the rights of recent immigrants and the foreigner population.
TOWN-GOWN RELATIONS
Cambridge must promote mutually beneficial relations with Harvard, MIT, Lesley and other academic institutions. I support exploring mutually acceptable ways to enable Harvard and MIT to share more in terms of contributing to the city's revenue base.
RESPONSIVE, EFFECTIVE GOVERNMENT & "SMART CITY"
I will fight for accountability, honesty and transparency in the city hall. I will strive to ensure every taxpayer dollar is spent wisely to maximum effect. And I will promote a "smart city" on the cutting edge of the IT revolution, utilizing smart phone apps and the like to make the city more efficient, livable and sustainable.
INTEGRITY IN PUBLIC SERVANTS AND MORAL, ETHICAL, SPIRITUAL VALUES
"When machines and computers, profit motives and property rights are considered more important than people, the giant triplets of racism, materialism, and militarism are incapable of being conquered."
-- Martin Luther King, Jr.
I pledge that, if elected, I will serve all my fellow Cantabrigians with utmost integrity, honesty and professionalism.
ISSUES AND AREAS OF PRIORITY: FULL DISCUSSION
Over the recent weeks, I have been visiting the various neighborhoods of Cambridge and talking to many fellow Cantabrigians. It has been a tremendous learning experience for me, as I have been learning firsthand what is on the minds of my fellow residents and what they feel are the significant issues facing their lives as residents of Cambridge.
I believe that listening skills are most important for an elected public servant, as elected representatives must address the concerns of their constituents. In addition, elected representatives must be able to work well with a broad spectrum of constituents and stakeholders in forging the effective coalitions needed to solve complex problems. I am convinced that I have both the listening skills and the ability to work well with others that are needed to solve the complex problems facing Cambridge.
Moreover, as someone who has visited or stayed in many cities and countries around the world, I have a broad, global perspective on things and noticed that the issues at stake here in Cambridge are in many ways similar to, yet in some ways different from, some of the issues I have encountered in other cities in the United States and abroad. In working for solutions to the issues facing Cambridge, I believe we must be creative and flexible and that we should be willing to study how other cities have tackled their issues -- whether creating bike lanes in Copenhagen, Denmark, or broadband access in public schools in Seoul, Korea, or energy efficiency standards for large buildings in New York City -- if there are lessons to be drawn from such studies.
The following is a working list of the issues (not in any particular order of importance) that I have identified so far.
Affordable Housing and Responsible, Smart, Sustainable Development:
Cambridge is one of the most desirable places to live in the United States, which is wonderful, but this proud distinction comes with consequences which must be managed in smart, responsible and sustainable ways.
Rising housing prices make Cambridge increasingly unaffordable even for the middle class and undermine the diversity of its residents which has been a proud hallmark of the city for many years. Affordable housing is therefore a top priority for the city.
Along with rising rents and property values, Cambridge has become one of the most densely populated cities in the United States as large recent and new development projects crowd out what little is left of the city's remaining open spaces.
I believe the City Council has a critical role to play in ensuring that the city government does all it can to preserve and expand affordable housing for all those who need it, especially working-class families, and to implement a responsible, smart and sustainable development trajectory for the city's future in which the interests of all the stakeholders, not just the most vocal or the deep-pocketed, are adequately represented.
I agree that Cambridge needs an updated comprehensive master plan for the city's sustainable long-term development. Formulating and implementing such a master plan calls for a thorough review of the current processes by which zoning and other development permits are granted by the city government as well as careful citywide cumulative impact assessments of current and new development proposals. Effective collaboration between resident associations and other stakeholders and the city government must be the basis for any such master plan.
We must work together to ensure a Cambridge in which we all can breathe clean air, see the blue sky, walk and cross the streets safely and there are plenty of greenery and open spaces such as parks and playgrounds in which children can play.
Environment, Traffic, Infrastructure, Parks, Recreation, Public Health, Quality of Life:
Cambridge enjoys a high overall quality of life, which is great, but there are areas for improvement, especially if the goal is to improve the quality of life for all residents, whether men or women, singles or families, young or old, straight or gay, Caucasian or minorities, healthy or physically handicapped, high-income or socioeconomically disadvantaged, native-born Americans or recent immigrants, or other groupings of the city's diverse resident population.
Environment and Traffic
The city must be vigilant not only against obvious threats, such as the proposed passage of highly flammable ethanol-carrying trains through dense urban areas of the city, but also against seemingly less obvious but just as real encroachments on its quality of life.
To do its part in the fight against global warming and for protecting the environment, the city must minimize carbon footprint in all its policies, and this has wide ramifications in areas such as energy, construction, traffic and conservation. The city must promote renewable energy and energy efficiency by encouraging solar and other renewable energy wherever feasible and by requiring energy efficiency standards such as LEED-certification in building projects whether new or retrofits.
I believe that the city can more actively promote energy efficiency on the part of every consumer of energy throughout all forms of energy consumption. For example, leaving electrical devices such as computers turned on or plugged in at home or at work while these are not in use leads to much waste of energy. I think the city can come up with creative ways to educate the public on this and other forms of energy inefficiency and incentivize them so as to save energy.
I agree that the city would do well to continue and expand upon its policy of encouraging more walking, biking, ride sharing, use of mass transit and the like. Biking and walking, in particular, need to be promoted as these can lead not only to less carbon footprint, less traffic congestion and more available street parking but also to a more vigorous physical health of more residents.
I believe the city should continue creating more bike lanes and other biker-friendly measures, but this should be done in a way which does not significantly exacerbate already serious traffic congestion on the major commuter transit roads and which adequately protects the interests and safety of all stakeholders – bikers, motorists, pedestrians, commuters and residents. I support better public education of traffic rules that are clear and easy to understand for all stakeholders, who sometimes do not adequately understand the traffic rules incumbent upon their respective parts.
Recent developments such as Hubway rental bikes and tricycle taxis (cycle rickshaws) have given rise to issues that need to be addressed, such as a rise in out-of-town tourists using Hubway who do not adequately observe relevant traffic rules and some confusion about traffic rules applicable to tricycle taxis.
I agree that the city needs a comprehensive traffic and transit plan to address current and future traffic congestions and especially the surge in motor traffic and transit trips expected to come from ongoing and new development projects such as Kendall, Central, Alewife and NorthPoint developments.
Last but not least, the city should do its utmost to reduce idling of vehicle engines which increases air pollution. The city government needs to work with NGOs and others on a campaign to better educate the public about this issue. I support working with the school district, delivery, logistics and transportation companies, and other relevant parties to reduce idling of their trucks, school buses and the like and to rationalize their delivery & service routes so as to minimize carbon footprint.
Parks, Recreation, Public Health, Infrastructure, and Quality of Life
If elected, I will work with my colleagues on the City Council to preserve and expand the city's parks, children's playgrounds and other areas of greenery and recreation, as these are critical to the city's quality of life.
The city must promptly address rodent and insect problems whenever and wherever they surface and do its utmost to curb excessive noise, whether from unnecessarily loud fire trucks passing late at night or earth-shaking drilling from construction sites.
The city suffers from aging infrastructure such as deterioration in its roads, bridges, underpasses, electrical grids, and water, gas & sewage pipes. To keep its infrastructure repaired and up-to-date, the city must do all it can, including devising creative approaches such as public-private partnerships to boost infrastructure investment.
For conservation and recycling, the city can set aside more designated areas and receptacles for composting and donating used clothing, shoes and other recyclable materials.
The city has achieved success in hosting free public events such as Danehy Park Family Day featuring programs for families with children and the City of Cambridge Dance Party in front of the city hall. As the residents want more such events, the city will do well to offer more of them as well as other programs including concerts, arts & crafts, farmers markets, sports events, and festivals celebrating various ethnic and other communities within Cambridge.
I believe the city must do all it can to support artists, musicians, dancers, writers and other creative communities by increasing grant funding and other means of assistance to support their endeavors.
The city has served the residents well by operating free public sports facilities such as McCrehan Memorial Pool in North Cambridge and Veterans Memorial Pool on Magazine Beach but can do more by offering more sports facilities.
I support the city paying more attention to the needs of pet owners and undertaking measures such as making more dog park space available or extending their hours of operation while requiring pet owners to properly leash and clean up after their dogs.
Furthermore, the city needs to do all it can to keep its streets and public spaces tidy, especially in areas such as Central Square and others that need extra attention. Renewal and redevelopment of Central Square, in particular, is a high-priority issue for the city, and I look forward to working with all stakeholders in completing this process.
Last but not least, I believe the city must pay special heed to physically and mentally handicapped residents, disabled veterans and other disadvantaged communities by devoting more resources to serve their needs.
Education, Employment, Job Training, Small Business:
As a former professor and educator who has trained education majors and K-12 teachers, I understand the world of academia and am familiar with the public education system in the United States.
As a business & finance professional who has worked with entrepreneurs, companies small and large and also governments and non-profit organizations, I also understand the world of business and am familiar with the concerns and travails of those facing the pressures of the bottom line while dealing with government regulations and hosts of other challenges.
I believe that Cambridge's public schools can be among the very best in the nation. This is only to be expected in a city that is home to Harvard and MIT, two of the foremost institutions of learning in the world. This means not only excellent graduation rates, test scores, college acceptance rates and the like but also graduates who have the skills demanded by today's rapidly changing global economy and thus get good, high-paying jobs.
Graduates of Cambridge schools should be able to get such good, high-paying jobs in Cambridge so that they would not have to leave Cambridge if they want to stay. A good step in this direction would be more coordination between the schools and the companies and other employers located in Cambridge so that the schools can equip students with the specific job skills required by the employers.
In particular, as Cambridge is home to thriving tech and life sciences industries, more effort is needed to produce graduates of the Cambridge schools with the skills that are in demand by employers in these industries who currently bring many of their skilled employees from outside Cambridge.
While Cambridge moves forward with promoting thriving tech and life sciences sectors and other advanced industries that can create new desirable jobs and tax revenues for the city, the city also needs to promote small businesses that are local and embedded in their communities. This includes working with the local business community to promote a business-friendly environment conducive to forming and growing start-ups, especially in the advanced high tech and other high value-added industries.
And it is incumbent on the city government to work with the local business community in order to preserve and promote local small businesses and keep large multinational retailers, restaurant chains and the like from dominating the city's commercial life and landscape. The city should also do what it can to support retail stores and restaurants that are affordable for local residents of diverse socioeconomic backgrounds.
Moreover, while job creation is clearly a top priority, sufficiently high wages with good benefits in a rising high cost of living environment and harmonious employer-employee relations are critical to economic and personal well-being. The city should encourage employers and employee groups including labor unions to negotiate mutually-beneficial employment agreements and support progressive practices in the workplace that advance the common good, such as occupational safety, healthy working conditions, sound environmental regulations, compliance with local residency and hiring percentages of residents, minorities and women.
In particular, the School Committee and the City Council should work together to improve communication and avoid a repeat of the failure by the City Council to pass the School District's annual budget for 2013-2014.
And I believe the city should do its part to encourage the two largest employers in Cambridge, namely Harvard and MIT, and their employees to work out mutually beneficial employment agreements and other progressive practices in the workplace that advance the common good of all the stakeholders involved.
As for the municipal employees of the city itself, the City Council can play an important role in ensuring that relations between the City Manager and the municipal employees are mutually beneficial and adequately protect the legitimate interests of the municipal employees, including their wages, benefits and how they are treated by the City Manager's office.
The gap between the rich and the poor in Cambridge is more like to narrow if more good jobs are created and existing jobs pay more in sync with rising productivity and more efficient management of businesses, government entities and non-profit entities including universities.
I believe the Cambridge public schools would do well to offer more effective programs for after-school, weekend and school-recess periods including summer. This is important not only for the students' further education and enrichment but also for ensuring that the students stay out of trouble and harm's way.
More effective programs for enlisting students in volunteer service projects, such as outreach projects to serve the homeless, would be a good step to discourage idling and promote the students' growth as life-long learners and responsible members of society.
Moreover, the city should do all it can to maintain and expand educational, cultural and recreational offerings for adults, seniors, recent immigrants and other non-student communities.
The recent action by the Longy School of Music to announce termination of its preparatory and continuing studies programs without consulting or notifying in advance the faculty and students involved was an ill-advised move, and the City Council should do what it can to help prevent incidents such as this in the future.
Last but not least, I support the city doing all it can to narrow the racial achievement gap in its public schools by devoting extra resources to helping students of color and recent immigrant communities perform to their full potential. The same goes for students with special needs, as the school system must strengthen its programs for special education and early childhood education. The school system can enhance its efforts to identify such children early on and render them needed attention and assistance in a timely, effective manner.
Furthermore, in this day of increasing globalization, I believe the school system must strengthen its programs that equip students for a global age, including foreign language offerings in Chinese, Arabic and other non-Western languages and exchange/study/work abroad programs that promote a global consciousness and understanding.
Public Safety and Crime:
Although Cambridge is generally considered a fairly safe residential community, there have recently been alarming incidents of theft, burglary, mugging and other violent crimes in numerous areas. This calls for more and better policing, stricter gun control, as well as more vigilance on the part of the residents, including community policing.
Some areas such as Central Square have seen a marked increase in street loitering and vagabonding especially in warm weather conditions. I support more effectiveness in programs to help keep people off the streets, such as homeless shelters, transition centers, alcohol & drug rehabilitation, reeducation & job skill training, and the like.
In general, I would support allocating more budgetary resources for more and better policing, and the City Council should adopt all sensible measures to support excellence in our police force.
The terrorist bombing at the Boston Marathon earlier this year was a truly horrific tragedy.
Although one hopes this was an isolated incident and not reflective of any general deeper malaise affecting the recent immigrant or foreign population residing in Cambridge, I believe there is a need for a conversation at the community level to ask ourselves if we have been doing everything we can as a community to help recent immigrants and the foreigner population feel welcomed, enfranchised and fully included in our community life.
What is needed is not any blame pointed at anyone but rather a community-wide soul-searching and conversation to address this issue and identify areas for possible steps to be taken.
As a new American citizen myself, I hope such a conversation will lead to a Cambridge that will continue to welcome people from everywhere and a Cambridge that reaches out to all its residents to participate happily in its community life.
Diverse, Tolerant and Peaceful Community:
Cambridge is among the most diverse cities in the United States, with a high socioeconomic diversity and residents from many nations all over the world. As a university town home to Harvard, MIT, Lesley, Cambridge College and other institutions of learning, Cambridge is home to a large student and faculty/staff population from all over the world.
As freedom of inquiry and diversity of expression should be hallmarks of any institution of higher learning, Cambridge, which is home to world-class institutions of higher learning, is also proudly distinguished by the diverse, peaceful and tolerant character of its community life.
We must strive to ensure that Cambridge remains a diverse, tolerant and peaceful community that welcomes people from all over the world to its midst.
In particular, I believe Cambridge must ensure that the rights of recent immigrants and the foreigner population continue to be fully respected and protected. I would support policy measures for affordable housing accessible to recent immigrants, non-discrimination against non-citizens, and expanded support services for non-citizens in our midst to become naturalized US citizens.
For non-native English speakers in our midst to more fully partake in the community life, more City services and other opportunities would need to be made accessible in more languages.
Town-Gown Relations:
Cambridge is privileged to host two world-class institutions of higher learning and other notable institutions such as Lesley University and Cambridge College. As both Harvard and MIT are big property owners and employ many Cambridge residents, Cambridge as a city must do all it can to promote mutually beneficial relations with both.
In particular, the city needs to better engage Harvard and MIT in order to leverage their resources for the benefit of the city in areas such as improving the public school system, job training, industry-academia cooperation, and sustainable, eco-friendly urban planning and development.
In an effort to mitigate the pressures on the city's housing market that fuel rising rents, the city should do what it can to encourage MIT to build more on-campus housing for its graduate students and post-doctoral researchers.
Exploring creative and mutually acceptable ways to enable both institutions to share more in terms of contributing to the city's revenue base would be a step worth discussing.
Responsive, Effective Government and "Smart City":
For many years, the Cambridge city government has been getting high overall marks for effective management. With a new City Manager, this tradition of performance must continue.
Although the city's finances have been strong, with triple A credit ratings from all three major rating agencies, vigilance is needed in an environment of rising municipal pension obligations and insufficient federal and state support for municipal budgets across the nation.
More spending is not necessarily a better solution, as what is needed may sometimes be an effort to work smarter, devise creative new approaches, and save resources.
With a city manager model of government, which has been working well for many years, Cambridge needs, nonetheless, to ensure that its government is fully accountable and responsive to its people.
I believe the City Council has a critical role to play in ensuring that the city government under the City Manager perform to the high standards which the people of Cambridge demand and deserve.
The Council is the primary channel through which the people of Cambridge can air their concerns about the city government and make their opinions on various issues known to the City Manager and other city employees. The Council needs to ensure that every taxpayer dollar is spent wisely to the maximum effect.
In particular, I believe the Council needs to watch out for transparency, fairness and accountability in areas such as development planning & zoning permits, public contracts and procurement projects so that the interests of all stakeholders are adequately addressed and city projects are carried out by the most qualified and socially responsible undertakers, not the most politically well-connected or the deep-pocketed.
A way for the Cambridge city government to better serve the people of Cambridge in this day of rapid advances in information technology is to be fully up-to-date in offering real-time digital information interface through web and smart phone applications and the like. Provided that adequate privacy safeguards can be ensured, Cambridge must be on the cutting edge of the current global trend toward "smart cities" – cities whose digital information platforms based on integrated data collection, synthesis and analysis offer useful actionable information and help make the cities more efficient, livable and sustainable.
I would support more resources for the city's IT department in order to offer potential new services such as, for example, expanded free wifi zones that would eventually cover the entire city and downloadable apps that locate in real time crime reports, free parking spaces, playgrounds, traffic congestions, road accidents and construction works, as well as facility closures due to extreme weather conditions and the like, all of which can help residents, commuters, motorists, bikers, schools and businesses alike.
As a center for R&D and innovation in the tech industry, Cambridge has no shortage of world-class software developers and other tech savvy people whose talents can assist the city government in improving its services and the competitiveness of Cambridge vis-à-vis other cities as a place to live, work and do business. It is incumbent on the city government to tap into this talent pool and work with industry and academia in making technology serve the common good of all those who live and work in Cambridge.

Integrity in Public Servants and Moral, Ethical, Spiritual Values:
"When machines and computers, profit motives and property rights are considered more important than people, the giant triplets of racism, materialism, and militarism are incapable of being conquered."
-- Martin Luther King, Jr.
Integrity is crucial in a public servant and government in general.
As I have been talking with my fellow Cantabrigians in recent weeks, I have been hearing much overall satisfaction with the city government but also some dissatisfaction with alleged lapses of integrity on the part of some public officials, as well as a concern over a certain moral/ethical/spiritual degradation affecting the fiber of the national and community life.
The voters of Cambridge must carefully exercise their due diligence to select only those candidates for elected office who will serve them with the highest standards of integrity, honesty and professionalism.
I pledge that I will serve all my fellow Cantabrigians with utmost integrity, honesty and professionalism if I am elected to the City Council. Once in office, I will hold the City Manager and all city employees accountable to the same standards of integrity, honesty and professionalism to which I am held accountable by my constituents.
I will also do my part to help identify ways of addressing issues of morality, ethics and spirituality, though these issues are hard to define, let alone to address. Perhaps, more community-wide events such as the services and activities marking the Martin Luther King Jr. Day, which I enjoyed very much in January of this year, may serve as occasions for us as a community to reflect on these issues and to ask ourselves where we as a community have been failing in adequately addressing the moral, ethical and spiritual issues of concern to our community and to our nation and the world.
JAMES LEE: BIOGRAPHICAL PROFILE
Born in 1968 in Seoul, South Korea, of a diplomat father and a musician mother.
Came to the United States in 1984 and graduated from Phillips Academy (Andover, Massachusetts, 1987), Williams College (B.A., Double Major in Art and Political Science, Williamstown, Massachusetts, 1991), University of California, San Diego (M.P.I.A., Concentration in International Business Management, 1995), and Harvard University (M.A. in Regional Studies: East Asia, and Ph.D. in History and East Asian Languages, 1997, 2003).
While at Harvard University as a graduate student, taught Harvard undergraduates as a Teaching Fellow (for which was awarded a Certificate of Distinction in Teaching) and served as:
President, Graduate Dormitory Council (2002-03), Graduate School of Arts and Sciences (GSAS): a self-governing association of the residents of GSAS dorms drawn from GSAS, Kennedy School of Government, School of Education, School of Design and other Harvard graduate schools.
Editor-in-Chief, Harvard Asia Quarterly, a current affairs journal affiliated with the Harvard Asia Center (2002-03).
Consultant to the Government of Kazakhstan on post-Soviet economic reform and the country's long-term economic development planning (1997).
Member of the Kuumba Singers of Harvard College, a choir devoted to the African-American and African arts, creativity and heritage (2002-2003).
Since graduation from Harvard, have been serving as a Center Associate, Davis Center for Russian and Eurasian Studies, Harvard University (2003 to present), and served as an Associate in Research, Korea Institute, Harvard University (2003-06).
Teaching appointments include: Visiting Assistant Professor in Asian and Middle Eastern Studies, Dartmouth College (2003); Adjunct Lecturer in Asian Studies, Bowdoin College (2004); Assistant Professor, History & Political Science Department, Manchester University (North Manchester, Indiana, 2005-07); Assistant Professor of History, Stonehill College (Easton, Massachusetts, 2008-10); and Faculty Member, Yonsei International Summer School, Yonsei University (Seoul, Korea, 2009-10).
Experiences in business and financial sectors include:
Management Trainee, Corporate Planning Team, Samsung Co., Ltd., South Korea's largest general trading company (1992) -- received on-the-job-training in all aspects of Samsung Group's global operations, including finance, sales, marketing, distribution and manufacturing.
Director, Managing Director and Senior Managing Director, Brock Group, a boutique financial services & business consulting firm (2007 to present) -- capital raising and consulting experiences in industries including technology, energy (including renewable energy and energy efficiency), life sciences, commercial real estate, transportation/logistics, and consumer goods.
Published author of The Partition of Korea after World War II: A Global History (Palgrave Macmillan, 2006) and other scholarly works, including "The 'Crisis' of Nonperforming Loans: A Crisis for the Japanese Financial System?" in Banking in Japan: Volume III: Japanese Banking since 1973: Deregulation, Internationalization and Adjustment, W. M. Tsutsui (ed.) (Routledge, 1999).
Have been serving as a Peer Reviewer for Journal of Cold War Studies (MIT Press), Diplomatic History (Oxford University Press) and a Book Reviewer for American Historical Review (Oxford University Press).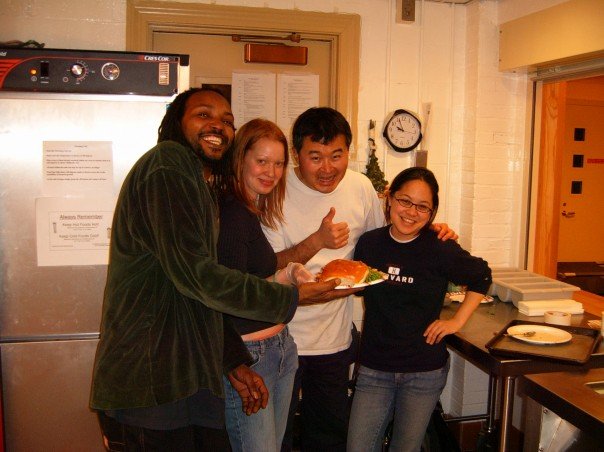 At Harvard Square Homeless Shelter, Thanksgiving 2006
Have been serving as a regular volunteer since the late 1990s at the Harvard Square Homeless Shelter and St. James Summer Homeless Shelter in Porter Square (relocated to Harvard Square this year); and have also volunteered at the meals for the homeless program at Christ Church Episcopal Church in Harvard Square.
Served as a member of the Policy Workshop at the Earth Summit, Columbia University, New York, March 2013.
Have travelled, studied or worked in over 50 countries on five continents. Travel experiences include work as a Research Writer for Let's Go South Africa, Let's Go New Zealand and Let's Go Chile, titles in the travel guide book series published by St. Martin's Press (2000-02).
Membership in Professional Associations (past and present): MIT Enterprise Forum, Asian Financial Society, Asian Association of Alternative Investment Professionals, Pacific Council on International Policy, American Historical Association, Association for Asian Studies, and American Political Science Association.
Fluent in Korean, English; proficient in Russian, Spanish, Chinese, Japanese, French; knowledge of Arabic and German.
I love nature, hiking, art, music, writing, singing, and jogging, especially along the Charles River.