---
Derek Kopon is a new candidate this year.
The goal of this campaign is to help Cambridge become a modern, efficient, sustainable city while still preserving the livability and historic character of our homes and neighborhoods. Effective municipal government must begin with an honest and transparent political system so that the decisions of our policy makers reflect the values of our citizens, free from the distortions and conflicts of interest of outside corporate money. Please join me in creating a government that is of the People, by the People, and for the People.
Campaign Finance Reform
"I feel like I'm going into a street fight with one arm tied behind my back." This is an actual quote from a current city councilor running for re-election without the big-money backing of large developers.

Too many of our City Councilors and Candidates take massive amounts of money from for-profit corporate entities, many located outside of Cambridge, with business pending before the city. A few candidates even take money directly from owners of businesses with lucrative city contracts. These financial conflicts of interest undermine the legitimacy of our democratic process. Protecting the integrity of our democracy must be our highest priority.
I Oppose the Subsidized Housing Zoning Overlay
I have actively opposed this developer-sponsored zoning proposal that will decimate the tree canopy, eliminate green space, cede design control to corporate interests, and loosen height, setback, and FAR requirements.

Mandatory Solar Power and Net-Zero on all New Developments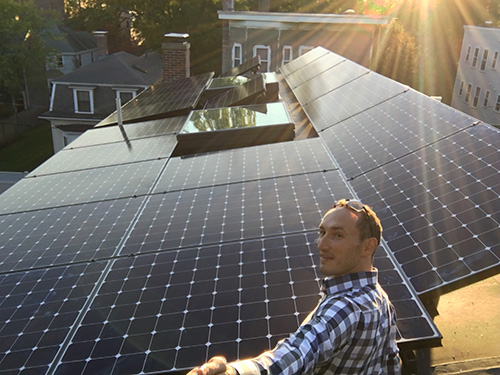 Photovoltaic power is cost-effective and technologically mature. The time has come for solar on all new developments. The initial capital cost of a large-scale (~20kW) PV system is only ~$100k, a tiny amount compared to multi-million dollar construction costs. Thanks to government incentives, PV systems will pay for themselves within 3-5 years and will continue producing power for 30+ years. While retrofitting an older home with solar may be cost-prohibitive, putting solar on new development is easy and inexpensive. It's time to do this.
Protect our Tree Canopy
Our tree canopy is declining at an alarming rate. We must put in place stronger safeguards to protect our mature trees against the onslaught of new development. Trees provide shade, protect against the urban heat-island effect, counteract climate change, and improve the livability of our city. They are one of our most valuable resources.
Our Cyclists are still not safe
Our city has made progress in recent years with bike lanes in a handful of locations. The network of bike lanes is not contiguous and many bike lanes are not protected from traffic or the open doors of parked cars. As someone who bikes to work, I still do not feel safe.
Rent stabilization and tenant protections
Many Americans do not know, or do not understand, that for the past 10 years, we have been living through the most extreme global experiment in central bank monetary policy in the history of civilization. In response to the 2008 financial crisis, the Federal Reserve kept interest rates at 0% for 6 years. In addition to this zero-interest rate monetary policy, the Fed initiated over $2 Trillion dollars of quantitative easing. These policies have decimated the purchasing power of middle class wages and contributed to the most extreme disparity in wealth this country has seen for 100 years. Interest rates this low for this long will, by definition, create bubbles and spikes in asset prices. These monetary policies are the primary driver (with Kendall Square development being a close secondary driver) of the extreme run-up in rents and property values in Cambridge.
It is not fair to long-term renters who built their lives and raised their families in Cambridge to be displaced and evicted because of macro-economic forces beyond their control. I design my housing policies with the intention of using the economic power of the city to stabilize the economic forces creating instability in the lives of our residents. I support rent stabilization with rent increases limited to 5-7% per year (slightly more than inflation). I support expanding the voucher program. I support increasing the senior citizen property tax discount for residents in need so that our retired and elderly are not displaced. I strongly support increasing tenant's rights and increasing tenant protections. Boston and Cambridge area landlords can be notoriously unscrupulous. I have friends who are afraid to ask their landlords to fix things in their apartments because they fear retaliatory rent increases.
Vacancy Fee to counteract empty storefronts and Vacant housing
Despite the strong demand for Cambridge residential and commercial real estate, we see a proliferation of empty storefronts and residential vacancy rates as high as 14% in some areas of the city. This incongruous reality is primarily caused by loopholes in the tax code that can make it more profitable in certain situations for a property to remain vacant rather than occupied. To change the economic equation and correct this market distortion, I propose a substantial vacancy fee on all residential rental and commercial property that remains vacant for longer than 3 months. This fee will encourage full occupancy of residential and commercial property, in addition to promoting fairer pricing of market rents. Rather than scrambling to build as much as possible no matter the cost, we must first begin by using the housing we already have more efficiently. It should not be sitting vacant.
Biography
I am an astrophysicist and engineer at the Harvard-Smithsonian Center for Astrophysics. I have spent my 20 year professional career designing and building the most advanced space telescopes and the largest ground-based telescopes in the world. I have a doctorate in astronomy and astrophysics from the University of Arizona, a Master's degree in engineering physics and aerospace engineering, and a bachelor's degree in engineering physics with a minor in mechanical engineering from Cornell University.

My mother was a lawyer for the Environmental Protection Agency and I am a lifelong environmentalist and activist. I am specifically interested in how to mitigate global warming through the use of zero-emission energy technologies, such as solar power and other renewables. I first moved to Cambridge in the summer of 2002 to do a summer internship in the MIT Plasma Science and Fusion Center where I researched clean fusion power, the holy grail of clean energy. I left Cambridge in 2007 to pursue my doctorate in Arizona. I then lived in Heidelberg, Germany for 2.5 years as a post doctoral research associate at the Max Planck Institute. I returned to Cambridge in 2015 and intend to build my life and raise my family here in the city.
---
CCTV candidate video (2019)
---