---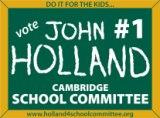 Welcome, Cambridge Public Schools and Cambridge School Committee are at a critical stage. You are here to make a choice for your children's future in Cambridge Public Schools. I am asking you to join me John Holland in creating this great future together.
Why I am Running for School Committee
I am a firm believer in Public Education and I am running for a seat on the School Committee to demonstrate my commitment to the children and families of the Cambridge Public Schools. We have a great school system, and we must be vigilant in keeping it on track. We must make the best of our opportunities and we must recognize and correct our shortcomings.
Last year my wife and I made a personal, family decision to enroll our older child in a private school. This decision was one that neither of us ever expected we would have to make. Both of our children were happy, successful students who benefited from several of the programs offered at the elementary school they attended. As parents, we felt our input was well received and valued.
When our older child entered the newly developed "middle school system" in the fall of 2012, there was unsafe incident that initially went unnoticed by school staff. The administration's response to our concerns was frustratingly inadequate. Our options were limited, so we had to look outside of CPS to find a school program that met our child's needs at that time.
This is my family's story, but in speaking with other parents and guardians, I have found many who have faced their own difficulties navigating their way through the system. All of our children should have access to programming and curriculum that best meets their academic, social and emotional needs, whether A.P. courses, Special Education interventions or ESL services. We have a uniquely diverse school population. We must make every effort to reach individual students in order to help them maximize their potential and to reach their academic goals. Parents should be equal partners in this endeavor and their insights considered and appreciated. Our schools should strive to work closely with families to help them find a pathway to success for their children.
Changing times call for a leader who is willing to face problems directly, without rationalizations or excuses. My goal is to make Cambridge a strong, visionary district through a program of accountability, transparency and community engagement.
We need to organize our school district for the future. School Committee and Superintendent need to sit down and devise a plan for our entire district that will take us into the future. Our District seems to go from one crisis to another with little thought of where we might go next. Innovation Agenda it was like we didn't plan ahead - Teachers Contract? - Longer school days? We should have long range plans set up for our district. But we can't seem to plan ahead.
Top Priorities.

Children

Safety
Curriculum
Staff
Inclusion

School Department Budget and Capital Needs

Budget Process
Analysis
Funding our education
Management
Set up a maintenance system to address the deteriorating schools

Achievement Gaps, Meeting the Needs of All Students

Extended Learning Time
After school Activities
Inclusion

Professional Life
Career History
Staples, Manager Talent Acquisition e-Commerce 2012-Present
EMD Millipore Lab Solutions, Global Staffing Manager 2007-2012
Liberty Mutual Insurance, Director Corporate Employment 2006-2007
Vice President Worldwide Staffing, State Street Corporation 1999-2006
Education
BS Business Northeastern University
Cornell University Graduate Human Resources Management Program
Activities and Memberships
Treasurer, Village of Winnipesaukee Condominium Association, Laconia NH
Member, Haggerty School Council
Member, St Peters Cambridge Parish Council, Cambridge Mass
Volunteer, Cambridge Girls Softball, T-Ball
Coach Cambridge Pop Warner
Volunteer/Sponsor West Cambridge Little Baseball League
Sponsor North Cambridge Little Baseball League
Twenty years as a Human Resources Executive for successful Fortune 500 companies have taught me that to have true accountability; you must also have transparency. Performance numbers, including student outcomes and financial performance, must be made public, or accountability is too easy to avoid.
Our district can raise its level of openness in ways ranging from publishing an annual report to publishing a clear district scorecard to publicizing the superintendent's evaluation criteria.
Our district should be surveying parent and teacher satisfaction annually, and it should make the survey results public. Teachers should have a "skip level" forum for communicating issues with school committee members without their principal or superintendent present.
Cambridge has changed significantly during the years I have lived here. We have become one of the most diverse communities in Massachusetts, and the school committee needs to catch up.
Many families in our district choose private school for their children. Parents of special education students, gifted students, and students in the middle have all told me that they feel like the school district is focusing on other students, but not on the needs of their specific students. Our district needs to work in such a way that all parents can be confident that their students' needs are being addressed.
Our city routinely is deemed one of the most education-focused, most supportive of its public schools. Our children and our city deserve a school district that we can all be proud of. I have seen what great education can do for an individual student, his or her family and their community. I have studied what innovative leaders do to transform companies, schools and school districts into institutions of excellence and equity. And I'd like the opportunity to work with our Superintendent and the others on the committee to provide leadership that achieves these goals for Cambridge Public Schools.
John Holland 2013 Candidate Profile - Cambridge Chronicle
CCTV Candidate Video (2011)