---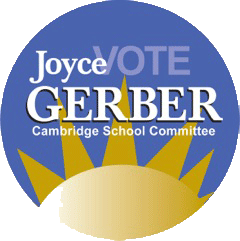 Biography
Thank you for your interest in my campaign for a seat on the Cambridge School Committee. My husband Rick and I moved to Cambridge twenty-two years ago, we are proud to call Cambridge our home. Our two children are both in Cambridge public schools, Bridgette is in seventh grade at the Rindge Avenue Upper School and Josh is a freshman at Cambridge Rindge and Latin. We now call North Cambridge our home but have lived in several different Cambridge neighborhoods and we value and appreciate the rich diversity of our city. I am attorney with a background in urban policy, and I've been an engaged and involved parent in my own children's school communities as well as with parent leaders from across the district. For many years I've both observed and been involved with the public schools of Cambridge and I hope to add my independent and informed voice to the conversations deciding the future of public education in the great city of Cambridge. If you'd like to learn more about my campaign please visit my website at www.joycegerber.org.
Advanced Learners
CPSD needs to make sure we have a place in every school community that can meet the needs of those students whose minds are engaged at advanced intellectual levels. Specifically, I believe the current approach to math instruction in our middle grades is failing our most promising math students. If we truly live in a district concerned about social mobility for our least advantaged students, then a strong foundation in math is essential to improve their future opportunities. However, at this time, students who are motivated and capable of learning math at an advanced pace are contorted into a complicated set of options that require them to either miss time in their own school community or promotes advanced materials without direct instruction in class. This approach may work for a few, but for the majority of good math students this is not working. I know that within each of the four upper school communities our teachers could organize at least one if not two classes of advanced, motivated math students. But this current contorted set of expectations cannot be undone without a change in policy. The current status quo in middle school math instruction is the result of a policy vote taken by the School Committee that specifically prohibits teachers from grouping students by ability or motivation for math instruction. This is a specific policy I would like to review and reconsider when elected to the School Committee.
School Department Budget and Capital Needs
What I constantly hear when I speak with voters is the often cited statistic that Cambridge Public Schools spend more per student than most other communities. But I think this is the wrong conversation to have about the public school budget given the mission of our schools and the deteriorated infrastructure and excessive capital needs of many buildings being used by our students and teachers.
The School Committee and the teachers union are once again in negotiations for a longer school day that will require an increase in the public school budget. In addition, many of our buildings are in need of significant repairs and renovations. The capital needs of the school facilities can no longer be ignored or delayed, especially given the cooling problems magnified earlier this year that forced teachers and students so spend days in conditions not optimal for learning. We are fortunate to live in a well-financed city that has invested significantly in the community to ensure safe streets, well-maintained parks and city services that contribute to the charm of urban life.
But it is not clear to me who is fighting for our school budget because while other city service budgets have increased significantly as a percentage of the city budget, the public school budget has lagged behind.
It is time to shift the conversation from the oft cited dollar amount per student and focus on what percentage increase other city services are receiving and make sure that CPSD has a strong advocate for comparable adjustments. When elected I hope to be part of the negotiations that ensure the needs of our public school students are at the forefront of city budget discussions.
Joyce Gerber 2013 Candidate Profile - Cambridge Chronicle
CCTV Candidate Video (2013)