---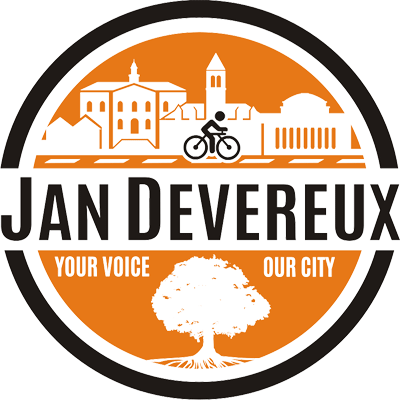 Why I'm running for re-election this Nov.
When my fellow residents elected me in 2015 as the only new city councillor, I pledged to bring a fresh perspective, new energy, and greater responsiveness to our City Council. I decided to run for office in 2015 not because I had always dreamed of a career in politics -- or even because I particularly like politics (I didn't and I still don't!), but because, as a longtime resident, I felt there was room for improvement in how the City engages, involves and communicates with residents about its policies and plans and their implementation.
As a communications professional, a good listener, and a mother of three grown children, I knew that I had the talent, the temperament, and the time to become a trusted voice and an effective leader. I'm grateful that voters recognized my potential and gave me the chance to prove I could make a difference. In becoming a public servant, it has been immensely gratifying to hear from people all across the city that my thoughtful approach, strong work ethic and no-nonsense attitude have helped them feel better informed and more confident that their voices are being heard. I'm proud to have raised the bar on what you should expect from the 9 fellow residents you elect to represent you. Every. Two. Years.
Visit my website to read more about what I stand for and why I'm a Cambridge City Council candidate.
Re-elect a trusted advocate of transparency and accountability
In my first term, as one of only two women on the Council, I have worked full-time to increase transparency and accountability and to promote civic engagement. My presence on the Council this term is helping make Cambridge more: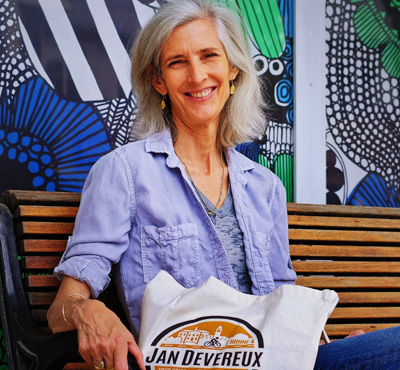 AFFORDABLE: I have fought to significantly increase the supply of affordable housing especially for families. I support regulations on short-term rentals that would prevent non-resident investors from commercializing our housing stock.
LIVABLE: As chair of the Health & Environment Committee I have worked to make Cambridge greener and more resilient to climate change. As a cyclist, I have fought to improve our network of protected bike lanes and to reduce speed limits. As chair of the Economic Development & University Relations Committee I have been a strong advocate for supporting local retail in Cambridge and for historic preservation and place-making in Harvard Square.
RESPONSIVE: Meeting with residents from all areas, responding personally to your emails and calls, and attending neighborhood meetings and committee hearings will remain my #1 priority.
TRANSPARENT: I'm accountable only to Cambridge voters. That's why I do not accept campaign donations from real estate developers, labor unions, or special interests with business before the Council. I am also proud that nearly 90% of my donations come from Cambridge residents, the highest percentage of all candidates including those who have loaned their own personal funds to their campaigns (which I have never done).
As Cambridge grapples with widening income inequality, intense development pressure and the prospect of climate change, I will continue to advocate for smart, sustainable planning that will address the need for more housing, while preserving livability and neighborhood character.
I'm proud to have earned endorsements from a number of respected organizations and elected officials:
Massachusetts Women's Political Caucus
Sierra Club
UNITE HERE
Local 26
Our Revolution Cambridge & National
Cambridge Residents Alliance
Harvard College Democrats
Massachusetts Voters for Animals
State Rep. Jonathan Hecht (D – 29th Middlesex)
State Rep. Mike Connolly (D – 26th Middlesex)
Cambridge City Councillor Nadeem Mazen
I am asking for your #1 vote this November. Here's why you need to return me to the Council in 2018-19:
If re-elected I will continue to work to:
increase the amount of affordable housing in all new development, and to preserve affordable units in existing buildings
advocate for a sustainable growth plan for the Fresh Pond/Alewife area that creates a sense of place and improves non-auto connections
expand the bike network and improve pedestrian and transit infrastructure to increase the safety of vulnerable road users and to reduce reliance on cars
save Harvard Square from further mallification
protect and enhance our open space and our tree canopy
advocate for accelerating measures to reduce our dependence on fossil fuels and decrease greenhouse gas emissions to Net Zero
support local retail and small business
fund universal pre-K and strengthen early childhood ed
make our volunteer boards and commissions more diverse and inclusive, and set term limits
strengthen partnerships with the non-profit community
reduce light trespass, noise pollution, and sign clutter
Your Voice. Our City.
Through my weekly newsletter, blog and social media posts, I have increased civic engagement and participation on local issues. My outreach and accessibility have helped bring more voices into the conversation.
If you would like to be on my mailing list please email me at jan@jandevereux.org.
I maintain two websites:
JanDevereux.org for information about my campaign and to make an online donation.
JanDevereux.com for commentary on Council agendas, issues and a curated calendar of public meetings and events.
You can follow me on Twitter and Instagram @jandev and on Facebook at facebook.com/votejandev.
PS: Ever wonder how ranked choice voting works and why we all ask for your #1 vote?
Watch this short animated video I made to explain our unique voting system. With so many candidates on the ballot this year, it's more important than ever that you understand how to use the ranked choice system to elect the people you most want to represent you.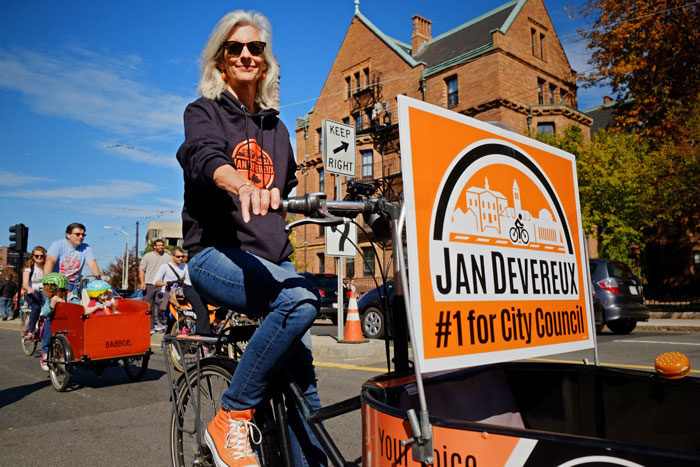 ---
CCTV candidate video (2015)