---
Background
I served on the School Committee (2013-2015) and was the lead on several student-centered initiatives that brought best practices into our schools, including: adding phonics instruction to our elementary curriculum; allocating funding to create the Teacher-in-Charge position for social and emotional learning; permanently funding support for our immigrant students, and adding financial literacy counseling for all seniors.
I'm a trained Orton-Gillingham reading specialist and have experience as a classroom teacher, as well as teaching ESL and after school. I was elected to serve four years as co-chair of the Parent Advisory Council for Students with Special Needs. In addition to having served on the School Committee from 2013-2015, I currently work in City Hall as the Legislative Aide to City Councilor and former Mayor, David Maher.
I'm the only candidate with experience in both City Hall and the halls of our schools. I lost my last election by only 33 votes and am looking forward to getting back on the School Committee to continue the work I started.
Learn more about my background here.
Why I'm Running for School Committee
Eighteen years ago, I was a grieving widow who moved to Cambridge with my two young children. Advocating for my own children, one with special needs, taught me how challenging it can be for all students to get the education they need and deserve. Cambridge is a city with abundant resources and opportunities, yet year after year, despite incremental gains, a gap persists between those students who succeed and those who struggle.
Challenges at home – such as food insecurity, language barriers, and learning disabilities – can often become challenges at school, making it harder for our most vulnerable students to learn. The official role of the School Committee is to set the budget, set policy for Cambridge Schools, and hire the superintendent. But within those responsibilities, the School Committee needs to address the stubborn and complex obstacles that hold children back.
The demographics of our schools tell an urgent story: almost 47% of our students qualify for free or reduced lunch, 1100 live in public housing, and every Friday 500 students leave school with a backpack of nutritious food to eat over the weekend. There are food pantries in five of our schools, serving 350 families every week.
As an educator, I know there's no time for complacency. I laid the groundwork during my first term on the School Committee to work toward creative solutions to these challenges, and have identified four key areas where improvement will ensure that all our students graduate with the skills they need to succeed in the 21st century:
My Top Priorities
Accelerate Access to Early Childhood Education (ECE)
Research makes clear: the most effective way to close the persistent achievement and opportunity gaps is access to high quality preschool education. But despite the urgency, especially for our low-income students, developing a system-wide Early Childhood Education (ECE) program has been slow. An ECE program will not only better prepare our early learners for school, but it will also create opportunity for families to build the habit of engagement with teachers and schools. Learn more about why I support expanding ECE here.

Improve Social and Emotional Learning (SEL) in all Schools
Research shows that students learn best when they feel safe and valued for who they are. To cultivate resilience in our students takes professional skill building, use of best practices to mitigate anxiety, and teacher empathy. Some schools have embraced more nurturing cultures, but this is not true district-wide. As a member of the SEL Advisory Board, I will continue to advocate for all principals to adopt best practices in their schools.

Create a Partnership in STEAM (Science, Technology, Engineering, Art, and Mathematics) Education
The greatest opportunity for our graduates is in the rapidly growing tech sector, both locally and globally. A recent Massachusetts report identified 119,000 state jobs that go unfilled because applicants lack necessary high-tech skills and training. Building synergy between our high school, local business community, and institutions of higher learning allows us to create a STEAM Partnership, offering pathways to 21st century careers.

Recruit and Retain a Diverse Teaching Force
Despite being a majority-minority school district, about 20% of our teachers are from underrepresented populations, but research confirms that students feel most affirmed and able to learn when the teachers in front of them look like them or share their cultural experiences. Our School Committee has set a goal of 30% minority employment, but does not have a plan. I began this work when I served on the School Committee and will continue to conduct the outreach necessary to build the pipeline of diverse, high-quality talent our students deserve.
Why You Should Give Me Your #1 on November 7
I'm an experienced, consensus-building advocate who's worked with our school system and in City Hall to ensure Cambridge uses all its resources to deliver on its promise of an inclusive, high-quality public school education for all our students.
As a parent and educator, I know it's not enough to rely on chance or parent advocacy to ensure student success. Instead, our school system must work with our families and students to make sure every child has the tools he or she needs to succeed. This requires asking the right questions and having the high expectations necessary to remove barriers to achievement and put our city's abundant resources to their best use.
Our mantra should be: "Successful Students Become Successful Adults." We cannot afford to graduate our students into a world for which they are ill prepared.
I am running for Cambridge School Committee to use my experience, my energy, and my commitment to achieve collaborative, common sense problem solving. Having voted to hire our new superintendent, I know our district has a leader determined to help all students achieve their potential. Working with him and the vision put forward in his strategic plan, I know we can transform our great ideas into great policy. And with your support, I know we can create a unified vision of excellence for every Cambridge school and for every Cambridge student.
Thank you for your support and #1 vote on Election Day, Tuesday, November 7, 2017.
School Committee Achievements
In 2013, I was elected to the Cambridge School Committee advocating that every child deserves equal access to the opportunities needed to achieve their potential. I used my own training as an educator to advocate for the best practices I knew were most critical to successful student learning.
I brought phonics back into the elementary classroom to make sure we meet the needs of all emerging readers.
I advocated for extra instruction for students not keeping pace, and for third grade proficiency as a benchmark for continued academic success.
I advocated for social and emotional support protocols and best practices for students K-12. As a result of my efforts, CPS now has a Teacher-in-Charge of social and emotional learning. I will be participating in a newly created SEL Advisory Board to oversee development and implementation of social and emotional best practices across our district.
I established a precedent to fund EnRoot, the CRLS program that mentors our immigrant students, helping them to successfully graduate from high school and college.
I helped bring UAspire to CRLS, providing every student with financial counseling before applying to college, including guidance on completing the critical FAFSA forms.
As chair of the Curriculum Sub-committee, I brought critical data (on curriculum alignment, assessments, intervention practices, teacher recruitment, and vocational education) to the School Committee for discussion and policy review.
I'm committed to improving education and expanding other support systems that help our students thrive.
Personal Achievements
Educator and certified reading specialist; taught general education and special education students, and taught English as a second language to Russian students while living in Moscow.
Volunteer-mentor with Girls' Media!, a media literacy program for low-income middle school girls
CCTV Board Member; helped develop and launch its new Strategic Plan
Masters in Journalism through Harvard University; capstone project was on education reform.
Vice Chair of the Ward 11 Committee and am an active member of CDCC.
Officer on CRLS School Council, 2011-2013
Currently work in Cambridge City Hall as aide to Councilor David Maher, who twice served as Mayor of Cambridge.
Endorsements
Jay Livingstone, State Representative

Dave Rogers, State Representative

Marjorie Decker, State Representative

Jefferson Smith, Former Chief of Staff to Councilor David Maher

Mary Tittmann, CPS Parent and Former President of Cambridge United for Education

Eric Grunebaum, Cleantech Business Development/Film Producer

Ruth Allen, Owner of Paddy's Lunch, Community activist

Maria Jobin-Leeds, CPS parent, education advocate, and founder of Maria's List

Barbara Anthony, CCTV Board Member; Former Head of Consumer Affairs and Business Regulation, MA
---
Electeds Show Support for School Committee Candidate Cronin's Push for More Early Childhood Education in Cambridge
July 7, 2017 – Cambridge School Committee candidate Fran Cronin established her commitment to expanding access to high quality early childhood education with the release of her first of four white papers on her campaign priorities to a crowd gathered at Atwood's Tavern.
Framing access to early childhood education as urgent, especially for families with the greatest need, Cronin said, "Early childhood education lays the foundation for life-long social and emotional development; supports continuous cognitive development; eases a single mother's access to stable employment, and is the best investment we can make to improve educational outcomes."
Featured guest speaker, State Sen. Sal DiDomenico, who recently released the Senate's first of three educational reports, Kids First, also reiterated the urgency of moving access to early childhood education forward to stave off barriers to learning.
"We cannot ignore the fact that some children arrive for school each day having come from homes experiencing economic challenges, food insecurity, trauma and other obstacles beyond their control that impede their ability to learn," said DiDomenico.
Cronin shared that in Cambridge's 2016-2017 kindergarten class of 597 students, 40 percent were high needs, meaning these students presented with multiple risk-factors upon starting school, such as having a learning disability, coming from a home that is economically disadvantaged, where English is not the home language, or the student is a minority.
This statistic corresponds with the State's demographic profile of Cambridge. In addition to almost 30 percent of the district's student body identified as special needs, almost 50 percent of all Cambridge students qualify for free or reduced lunch, an indication of home poverty.
A recent district assessment of third graders revealed that almost a third did not test proficient at grade-level reading. Research has established third grade reading ability as a critical marker. Children who have not developed strong literacy skills by the end of third grade are often left behind and unable to keep up as reading becomes necessary for learning.
State Rep. Marjorie Decker, and former State Rep. and former Mayor of Cambridge, Alice Wolf, both long-time advocates of early childhood education, were also present to show support for Cronin and her effort to turn up the heat on expanding availability of high-quality early childhood education to low-income and minority students.
In addition to early childhood education, Cronin's campaign is also pushing for social and emotional best practices in grades K-12; the creation of a Partnership in STEAM Education (Science, Technology, Engineering, Arts, and Mathematics) to create new career pathways for graduates, and ensuring teachers in Cambridge are as diverse at the students they teach.
---
Dear Friends: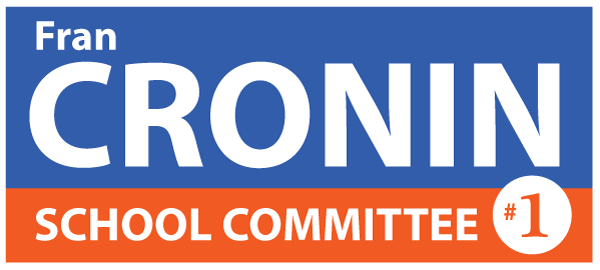 June 8 – On Sunday, June 4, I announced my candidacy for Cambridge School Committee because I believe in the transformative power of great public education.
Along with State Rep. Jay Livingstone, State Rep. Marjorie Decker was there and announced to the crowd she was endorsing me.
"I'm supporting Fran because she believes, like I do, in equitable, high quality education for all Cambridge students. Education may be under assault, but it's never been more important, and Fran's been a committed advocate for students who need our help the most."
For too long, mixed results have been the acceptable status quo for student achievement. For too long we've tolerated 3rd graders graduating into 4th grade with below level reading and math skills. For too long we've tolerated students graduating into a world for which they are ill prepared. Going to community college and leaving with debt and no degree is not a graduation plan.
I moved here 18 years ago as a widow with two young children, knowing no one other than my in-laws who lovingly welcomed me into their home. But with my education, the support of my family, and through the schools my children attended, I built a community that was strong, believed in us, and picked us up when we stumbled.
I was fortunate, but too many families in Cambridge don't have the well of support I could draw upon.
Despite Cambridge being a wealthy city endowed with great riches and opportunity, we have an economic divide and pockets of silent poverty, which all comes together in the halls and classrooms of our 17 schools.
Over 3000 Cambridge students qualify for free and reduced lunch, 1100 live in public housing, and 500 take fresh food home with them every weekend through the Weekend Backpack Program. We have food pantries in four elementary schools and one in the high school.
The stakes are too high for to leave student achievement to chance, a zip code or a parent's advocacy skills.
That's why as an elected member of the School Committee, I will ensure we build the bridges of excellence critical providing all of our students the high quality education they so richly deserve.
My four priorities for achieving this are:
Affordable, high-quality early childhood education for all our youngest learners, especially those most in need. We know it's the best advantage we can give our young learners to close the achievement and opportunity gaps and the best education investment we can make;
Social and emotional best practices in all schools to help students learn to their potential. Teachers know students learn best when they feel safe, less anxious and trust their teachers. Let's make sure our principals and teachers have the training they need to use these critical skills well;
Partnerships in STEAM Education to harness the potential of Cambridge's biotech and hi-tech industries and to create new opportunities and career pathways for our students; and
Recruit and retain a diverse pool of talented educators that reflects the great diversity of the students in our schools.
For too long these priorities have been on the back burner. It's time to turn up the heat.
With my experience as a teacher, and as an educational advocate who succeeded in getting phonics instruction back in the classroom, more support for immigrant students, and financial aid literacy support for seniors, I know how to get things done.
With your support, I know we can turn these great ideas into great policy. Together we can make Cambridge the best urban district in the country.
Thank you,
-Fran
---
Fran Cronin Announce Candidacy for Cambridge School Committee with Endorsement from MA State Rep. Marjorie Decker
June 5, 2017 – Fran Cronin, an experienced teacher and educattional advocate, formally announced her candidacy for Cambridge School Committee at a kickoff rally Sunday night. State Rep. Marjorie Decker closed the event with her endorsement of Cronin for School Committee.
"I'm supporting Fran because she believes, like I do, in equitable, high quality education for all Cambridge students. Education has never been more important and Fran's been a committed advocate for students who need our help the most," said Decker.
With a speech that was frequently interrupted with applause, Cronin laid out her priorities for moving the Cambridge district forward.
"The time is now to ensure early childhood education is available to all, especially for our neediest families; to implement best practices for social and emotional learning in all our schools; to create a STEAM Partnership to create new pathways of opportunity; and to recruit educators that reflect the diversity of our students," said Cronin.
Cronin stated that for too long these common sense but strategically important priorities have been on the back burner. "It's time to turn up the heat," she said.
Framing her remarks against the backdrop of the income inequality and cultural diversity that has come to characterize Cambridge, Cronin cited: 3000 students who qualify for free and reduced lunch, 1100 who live in public housing, and 500 that take fresh food home on the weekend through Cambridge's Weekend Backpack Program, to reflect this same economic divide in all Cambridge's public schools."
"Too much is at stake," she said, "to be satisfied with mixed educational outcomes in a city endowed with so much wealth and opportunity. We can't afford to graduate our students into a world for which they are ill prepared. And we can't afford to have student success depend on chance, a zip code, or a parent's advocacy skills."
"As we move forward in this election, we can make a choice," said Cronin. "We could either continue with the status quo of mixed results or you can join me in setting a higher bar of expectation for all Cambridge students."
In leading up to Election Day, November 7, 2017, Cronin says she looks forward to engaging with voters to join her campaign of building bridges to excellence for all Cambridge students.
---
CCTV candidate video (2017)
2015 Candidate Page 2013 Candidate Page
---