---
Electeds Show Support for School Committee Candidate Cronin's Push for More Early Childhood Education in Cambridge
July 7, 2017 – Cambridge School Committee candidate Fran Cronin established her commitment to expanding access to high quality early childhood education with the release of her first of four white papers on her campaign priorities to a crowd gathered at Atwood's Tavern.
Framing access to early childhood education as urgent, especially for families with the greatest need, Cronin said, "Early childhood education lays the foundation for life-long social and emotional development; supports continuous cognitive development; eases a single mother's access to stable employment, and is the best investment we can make to improve educational outcomes."
Featured guest speaker, State Sen. Sal DiDomenico, who recently released the Senate's first of three educational reports, Kids First, also reiterated the urgency of moving access to early childhood education forward to stave off barriers to learning.
"We cannot ignore the fact that some children arrive for school each day having come from homes experiencing economic challenges, food insecurity, trauma and other obstacles beyond their control that impede their ability to learn," said DiDomenico.
Cronin shared that in Cambridge's 2016-2017 kindergarten class of 597 students, 40 percent were high needs, meaning these students presented with multiple risk-factors upon starting school, such as having a learning disability, coming from a home that is economically disadvantaged, where English is not the home language, or the student is a minority.
This statistic corresponds with the State's demographic profile of Cambridge. In addition to almost 30 percent of the district's student body identified as special needs, almost 50 percent of all Cambridge students qualify for free or reduced lunch, an indication of home poverty.
A recent district assessment of third graders revealed that almost a third did not test proficient at grade-level reading. Research has established third grade reading ability as a critical marker. Children who have not developed strong literacy skills by the end of third grade are often left behind and unable to keep up as reading becomes necessary for learning.
State Rep. Marjorie Decker, and former State Rep. and former Mayor of Cambridge, Alice Wolf, both long-time advocates of early childhood education, were also present to show support for Cronin and her effort to turn up the heat on expanding availability of high-quality early childhood education to low-income and minority students.
In addition to early childhood education, Cronin's campaign is also pushing for social and emotional best practices in grades K-12; the creation of a Partnership in STEAM Education (Science, Technology, Engineering, Arts, and Mathematics) to create new career pathways for graduates, and ensuring teachers in Cambridge are as diverse at the students they teach.
---
June 21 – Fran Cronin announced today that she will be hosting an issue forum with State Senator Sal DiDomenico. They will discuss early childhood education and Fran will unveil her vision for early childhood education in Cambridge. The event is 6pm on Tuesday, June 27 at Atwood's Tavern. Fran is looking forward to talking with the families of Cambridge about this important issue.
Below is the invite she sent to supporters:
"Thank you so much for your support over these past few weeks. I have been busy knocking on doors and talking to voters across the city.
I've heard from too many parents who are concerned about finding a pre-school for their child that is affordable and accessible.
Research makes clear: the best advantage we can give our students to close the persistent achievement and opportunity gaps is access to high quality pre-school education. But despite the urgency, especially for our low-income students, implementation of a systemic early childhood education program has been slow.
If you believe that we have an obligation to our children, then I hope you'll join me on Tuesday, June 27, for a forum on early childhood education in Cambridge.
I will discuss my vision for early childhood education and how we can do better for our youngest learners. I will be joined by State Senator Sal DiDomenico, who is championing this issue at the state level. Join us at Atwood's Tavern (877 Cambridge St.) at 6pm for this important conversation.
The education of our children is too important for us to accept the status quo.
I look forward to seeing you Tuesday, and I hope you can bring a friend or your family, too."
---
Dear Friends: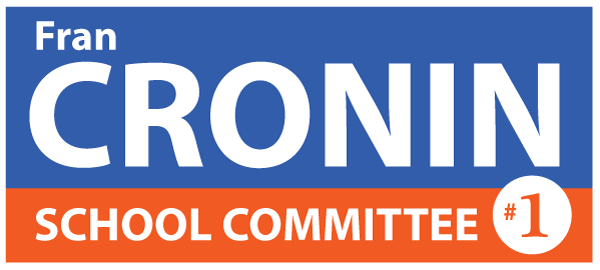 June 8 – On Sunday, June 4, I announced my candidacy for Cambridge School Committee because I believe in the transformative power of great public education.
Along with State Rep. Jay Livingstone, State Rep. Marjorie Decker was there and announced to the crowd she was endorsing me.
"I'm supporting Fran because she believes, like I do, in equitable, high quality education for all Cambridge students. Education may be under assault, but it's never been more important, and Fran's been a committed advocate for students who need our help the most."
For too long, mixed results have been the acceptable status quo for student achievement. For too long we've tolerated 3rd graders graduating into 4th grade with below level reading and math skills. For too long we've tolerated students graduating into a world for which they are ill prepared. Going to community college and leaving with debt and no degree is not a graduation plan.
I moved here 18 years ago as a widow with two young children, knowing no one other than my in-laws who lovingly welcomed me into their home. But with my education, the support of my family, and through the schools my children attended, I built a community that was strong, believed in us, and picked us up when we stumbled.
I was fortunate, but too many families in Cambridge don't have the well of support I could draw upon.
Despite Cambridge being a wealthy city endowed with great riches and opportunity, we have an economic divide and pockets of silent poverty, which all comes together in the halls and classrooms of our 17 schools.
Over 3000 Cambridge students qualify for free and reduced lunch, 1100 live in public housing, and 500 take fresh food home with them every weekend through the Weekend Backpack Program. We have food pantries in four elementary schools and one in the high school.
The stakes are too high for to leave student achievement to chance, a zip code or a parent's advocacy skills.
That's why as an elected member of the School Committee, I will ensure we build the bridges of excellence critical providing all of our students the high quality education they so richly deserve.
My four priorities for achieving this are:
Affordable, high-quality early childhood education for all our youngest learners, especially those most in need. We know it's the best advantage we can give our young learners to close the achievement and opportunity gaps and the best education investment we can make;
Social and emotional best practices in all schools to help students learn to their potential. Teachers know students learn best when they feel safe, less anxious and trust their teachers. Let's make sure our principals and teachers have the training they need to use these critical skills well;
Partnerships in STEAM Education to harness the potential of Cambridge's biotech and hi-tech industries and to create new opportunities and career pathways for our students; and
Recruit and retain a diverse pool of talented educators that reflects the great diversity of the students in our schools.
For too long these priorities have been on the back burner. It's time to turn up the heat.
With my experience as a teacher, and as an educational advocate who succeeded in getting phonics instruction back in the classroom, more support for immigrant students, and financial aid literacy support for seniors, I know how to get things done.
With your support, I know we can turn these great ideas into great policy. Together we can make Cambridge the best urban district in the country.
Thank you,
-Fran
---
Fran Cronin Announce Candidacy for Cambridge School Committee with Endorsement from MA State Rep. Marjorie Decker
June 5, 2017 – Fran Cronin, an experienced teacher and educattional advocate, formally announced her candidacy for Cambridge School Committee at a kickoff rally Sunday night. State Rep. Marjorie Decker closed the event with her endorsement of Cronin for School Committee.
"I'm supporting Fran because she believes, like I do, in equitable, high quality education for all Cambridge students. Education has never been more important and Fran's been a committed advocate for students who need our help the most," said Decker.
With a speech that was frequently interrupted with applause, Cronin laid out her priorities for moving the Cambridge district forward.
"The time is now to ensure early childhood education is available to all, especially for our neediest families; to implement best practices for social and emotional learning in all our schools; to create a STEAM Partnership to create new pathways of opportunity; and to recruit educators that reflect the diversity of our students," said Cronin.
Cronin stated that for too long these common sense but strategically important priorities have been on the back burner. "It's time to turn up the heat," she said.
Framing her remarks against the backdrop of the income inequality and cultural diversity that has come to characterize Cambridge, Cronin cited: 3000 students who qualify for free and reduced lunch, 1100 who live in public housing, and 500 that take fresh food home on the weekend through Cambridge's Weekend Backpack Program, to reflect this same economic divide in all Cambridge's public schools."
"Too much is at stake," she said, "to be satisfied with mixed educational outcomes in a city endowed with so much wealth and opportunity. We can't afford to graduate our students into a world for which they are ill prepared. And we can't afford to have student success depend on chance, a zip code, or a parent's advocacy skills."
"As we move forward in this election, we can make a choice," said Cronin. "We could either continue with the status quo of mixed results or you can join me in setting a higher bar of expectation for all Cambridge students."
In leading up to Election Day, November 7, 2017, Cronin says she looks forward to engaging with voters to join her campaign of building bridges to excellence for all Cambridge students.
---
Statements from 2015 election:
About Fran A. Cronin –
I'm a first-term member of the Cambridge School Committee seeking re-election on November 3, 2015. I have worked hard to ensure passage of policies that support every student's ability to graduate from high school with the capacity to pursue his or her dreams. Whether that dream is to be a certified technician or a graduate from a two-year of four-year college, I believe every Cambridge student can and should leave our high school with the skills and confidence necessary to succeed.
Eighteen years ago, I became a widow and moved to Cambridge with my two young children. Today, I'm the proud mother of a recent CRLS graduate and a son who will be finishing high school next year. My family understands first hand that academic rigor alone does not ensure academic achievement. Many students who face challenges outside the classroom may require non-academic supports to help them succeed in the classroom. I will vigorously advocate for a robust art program in every school and a stronger bridge between our schools' and our city's mental health resources. We need to create a more seamless system of care both inside and outside the classroom to support our students and their families.
In my second term, I will continue to advocate for policies that harness and align Cambridge's vast resources to maximize support of our teachers, students and families. In addition to ensuring an effective leadership transition with the new Superintendent, I will advocate for a systemic, District-wide Improvement Plan focused on supporting our teachers and increasing student achievement. I will fight for renewed academic opportunity while we focus on well-being for all students.
Working together, these strategies will propel our students of today to become the leaders of tomorrow.
Top Priorities:
a) Equity and Diversity
Cambridge is a relatively small, highly resourced urban district that takes great pride in the diversity of its community and the student body that attends its public schools. For the past decade, our student enrollment has been about 45% free and reduced lunch (F/R), an indication of home-based poverty; 20% special needs and 10% for whom English is not the home language. Census for the 2013-14 school year reported more than 62 languages were represented in our schools.
In a perfect world, each neighborhood in our city would equitably reflect the economic and cultural diversity of our city. Each of our schools would be perfectly balanced for economic status, ethnicity and learning profile. However, our world is not perfect nor is equal balance achieved in all our schools.
To help better achieve and maintain equitable school-based cultures and to better balance resources based on school-based learning and social and emotional needs, I will in my second term on the School Committee, continue to advocate for:
Clear guidelines to best identify and request supports so that appropriate resources can be allocated in alignment with school-based need;
Incorporation of a cultural-proficiency based curriculum that is relevant to students, families and teachers;
A thoughtful and robust investment in community engagement to ensure that no family feels disenfranchised from their student's school or educators;
The development of an aggressive Teacher Residency Program with the capacity to recruit, train and retain a high-quality and diverse pipeline of educators to bring into our system;
A well-implemented model of differentiated class-based instruction to ensure every student has the capacity to learn at their own pace and graduate from the school year with grade-appropriate mastery;
The expectation that in the next several years Cambridge will have fulfilled its promise to be an inclusion district.
Acknowledging inequities will lead to better intent and best inform our policy development and budgetary allocation of resources. It is a conversation we as a community must be willing to engage in and embrace if we are to achieve our shared goal of making sure all students in Cambridge graduate from high school able to fulfill their dreams.
b) High-quality Out-of-School Time Experiences
Three years ago, a Mayor's Blue Ribbon Commission on Middle School Youth developed an Out-of-School Time (OST) Strategic Plan that recommended leveraging use of existing high-quality OST community partners to create a robust network of opportunities for our middle school youth.
The Strategic Plan reiterated the known benefits of middle school participation in quality OST activities: Students perform better academically, demonstrate greater social and emotional competency, and engage less in risky behaviors and more in sports and exercise.
To achieve this desired success, we need to strengthen and efficiently access our OST partnerships without overburdening our teachers. Adding tasks to their already heavy load would further fracture and distract their focus on class-based instruction. We need to develop and support creative solutions to make connections stronger between all educators and community partners in Cambridge – those who work with our children and families before, during and after school.
As a member of the School Committee, I will provide the committed leadership necessary to realize the potential benefit of high-quality OST experiences for all our students. Working together with our city and community partners, our goal should be to provide every student with after school academic and cultural enrichment opportunities that best align with their interests, aspirations and their well being.
c) Special Education
As a parent of a special needs student, I know firsthand how challenging it can be to access appropriate supports and services. Families want to know they can do what's best for their student and that when they speak they are heard.
As a member of the School Committee, I want to make sure that every dollar we spend on supporting the needs of students on IEPs (Individualized Education Plans) and 504 Plans (for instructional accommodations) is money well spent and serves the best interest of our deserving students.
As a former co-chair of the Cambridge Parents Advisory Council (C-PAC), I support Dr. Greer's goal to break down our educational silos to ensure every student – whether on an IEP, 504 Plan or has been recognized as an advanced learner – has access to a rigorous curriculum in the least restrictive environment and achieves the academic success they aspire to and deserve.
Through my advocacy on behalf of the C-PAC and the relationships that followed, I have been able to give voice to the many issues raised by the sped community, including transparent and equitable oversight of IEPs, skillful implementation of 504 accommodations and supports, and use of RtI (Response to Intervention) and other in-class strategies to create a more seamless access to inclusive quality teaching and academics.
To maximize success for all special education students, I will continue to:
Advocate for inclusion and diversity to be a school climate goal for every school administrator during in- and out-of-school time experiences;
Insist on accountable oversight of 504 accommodations and ensure that teachers have the ability to skillfully implement them;
Make sure students, and their supporting data, are monitored and well supported with transition plans as students make critical school changes between 5th grade and an Upper School and 8th grade to the high school;
Request equitable distribution of appropriate supports and services from school-to-school, depending on school-based need.
Achievement Gaps, Meeting the Needs of All Students
We know that early childhood education and early interventions are essential to healthy cognitive development and growth.
Students entering our elementary school program unprepared for school, enter with deficits that become more difficult to ameliorate as the student ascends through school. To close this achievement gap, we need to close the gap in access to quality early childhood education.
This fall, the Early Childhood Task Force will present its recommendations on how Cambridge can achieve universal access to high-quality early childhood education for our youngest learners.
As a mother and a member of the School Committee, I will make sure the Early Childhood Task Force recommendations are received and responded to with the seriousness with which they will have been crafted.
However, Cambridge Public Schools (CPS) can't, nor should it, be alone in the development and oversight of a high-quality early childhood system of education. To be successful, our community must come together with common purpose and high expectations.
To succeed, CPS and City Hall must share not just vision but bridge resources and commitment to a community-wide early childhood education initiative that gains strength from relationship and partnership built across our city.
Controlled Choice, Student Assignment Policies
In March 1981, CPS implemented its first Controlled Choice Policy to give priority to school choice and school racial balance. In the ensuing decade, many other revisions were made to the Controlled Choice Policy, including shifting emphasis from racial balance to economic balance as well as more equal access to CPS' language immersion schools.
As recently as 2014, the School Committee passed five new recommendations to strengthen and clarify the rules that govern school access and balance. However, balancing the dictates of the Controlled Choice Policy with best intentions for students and their families remains a struggle.
Families enrolling their student for the first time have to navigate the terms "lottery" and "mandatory assignment." Armed with more anecdotal information than fact, families have to prioritize school preference for their student.
With schools scattered throughout the city, crisscrossing Cambridge to attend school takes students out of their neighborhoods and often away from natural friend groups; requires school busing or parents to transport students back and forth to school; and challenges the desire to increase family engagement with our schools.
The impetus behind our Controlled Choice Policy remains an important ethos for our community and will continue to drive the values intrinsic to our public schools. However, it's time to explore whether or not a policy crafted 35 years ago is the best working model for Cambridge today.
This past spring the School Committee convened a round table to explore this question. It was the start of an important conversation that, if re-elected, I intend to bring out into the community for review.
As a community – no matteer where you live – we must come together and create a school enrollment policy that best respects and balances our city's racial diversity, the differing economic status of our families, and the integrity of our neighborhoods.
---
Since coming to office, I have crafted and advocated for policies that bridge Cambridge's vast resources with our schools and students. I championed and led the effort to:
Insist that all third grade students achieve grade level literacy skills;
Introduce a phonics program that supports our students' varied learning styles;
Enhance mentoring of principals, assess programs and renew efforts to fulfill the promise of a robust after school program at our Upper Schools;
Increase non-academic support to help our most vulnerable students overcome barriers to learning due to circumstances outside the classroom;
Take a fresh look at the high school's vocational education program with an eye towards building a curriculum aligned with the needs of our 21st century STEAM-driven economy and builds bridges between our schools and the resources available right here in Cambridge;
Provide greater communication of curriculum reform and the use of technology as an instructional aid.
Re-elect Fran Cronin for Cambridge School Committee on Vimeo.
CCTV candidate video