---
Josh Burgin is a new candidate this year.
Dear Neighbor,
I believe elected leaders must always listen. Over the past months, I've been knocking on doors and asking everyone I meet one question: "What one or two things in your mind would improve Cambridge?
From affordable and walkable neighborhoods to better roadway signage, increased pedestrian safety, and support for local businesses, patterns emerged as suggestions filled my notebooks. These ideas and priorities from you and your neighbors defined a community-driven plan called "25 Ideas for Cambridge".
This plan is what I intend to focus my efforts and attention on as a Cambridge City Council member. If one or more of these ideas resonate with you, I hope you give me the opportunity to serve you as your City Councilor.
My name is Josh Burgin, and I would be honored to receive your #1 vote on Tuesday, November 7th.
HOUSING AFFORDABILITY
Demand Harvard and MIT do more to contribute to Cambridge
Create Tax Incentives for Landlords willing to offer affordable rents
Tax AirBNB for use greater than one room per residence or where the owner is not present.
Promote Higher Density for Business districts and transit corridors
Tax Speculative Property Sales where little or no improvements are made.
Streamline zoning and permitting, especially for individual home owners and end users.
TRANSPORTATION & SAFETY
Signage for ALL Crosswalks
Address Gridlock at Alewife, ensure that state infrastructure is improved to accommodate any future development
More Sidewalk and Street Lights, increasing pedestrian visibility
Bike Rider Safety Enforcement, bikers MUST follow the same traffic rules as everyone else.
Safe Bike Lanes and Smoothed sidewalk seams
Speed Humps and Traffic Calming for residential streets where needed
CHILDREN & YOUTH
Park Equipment Safety Checks, park play equipment needs to be checked for safety with more frequency.
Additional Park Lighting, focused on youth sporting activities
More Childcare Options, with a focus on affordability and equitable access
Additional Funding for Students and Youth Development Programs.
ENVIRONMENT
Plant and Maintain Trees, trees require maintenance for their health and for public safety
More Electric Vehicle Charging Stations, for street parking neighborhoods.
Expand Curbside Composting, to reduce methane gases
Rat and Rodent Control, support for those neighborhoods overrun with pests (this includes Turkeys were appropriate).
ECONOMIC DEVELOPMENT
End the ComCast, create competition for faster cheaper private sector internet (relook at municipal option)
Support Small Businesses to make Harvard, Central and Kendall Squares – Experience Destinations
Promote Cambridge both domestically and internationally as a place to invest and create jobs
Create a Cambridge Helpline to assist residents to navigate city offices and services
Background
Josh Burgin is a tri-sector professional with over two decades of experience in small business, state and local government, and international development. Josh has a broad range of experience from front line customer service and sales, setting policy for a public transit agency, to negotiating with the Presidential Administration of Kazakhstan.
In the private sector, Josh has focused on building operations management and marketing tools for numerous companies. Josh also has a strong track record of public service having worked for policymakers at both the state and local level; he also served on the Hillsborough Area Regional Transit Agency Board, the Metropolitan Planning Organization, the Transportation Disadvantaged Coordinating Committee, and the Hillsborough County Fair Boards.
Josh has also worked in countries throughout the former Soviet Union, having served as County Director for a USAID-funded democracy project in Kazakhstan, participated in trainings in Kyrgyzstan, monitored elections in Ukraine, selected as a New Security Leader at the Warsaw Security Forum, and he previously taught English in Russia.
Josh has a B.A.S. in Supervision and Management from Polk State College and a Masters in Public Administration from the Harvard Kennedy School of Government, where he received the Lucius N. Littauer Award for Academic Excellence and Community Impact.
Josh is a Real Estate Consultant at ePlace Real Estate. He is married to his wife Jamie and they have two children.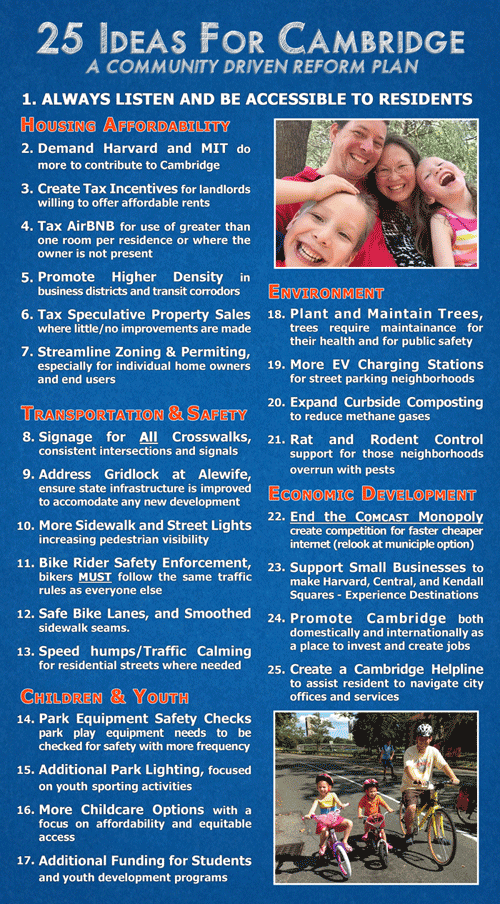 ---
If there were one or two things that could be improved in Cambridge or perhaps, more importantly, your neighborhood, what would they be? Over the past months, I have been knocking on doors all over Cambridge asking this same question to everyone I meet. The goal is to collect 25 Ideas for Cambridge, a community driven reform plan.
I believe deeply that in order to effectively represent it is critical to listen and learn firsthand about the issues that are important to our friends and neighbors. You see, I never planned on running for Cambridge City Council while I was growing up in a Florida farming community. My first job was working for my grandfather, who spent over 35 years in agriculture and eventually started his own wholesale produce business. It was there I was taught the value of hard work and learned the importance of giving back by to the community.
My family and I first came here when I was a graduate student at Harvard. My children attended public school in Cambridge, where their multi-ethnic, tri-lingual upbringing was welcomed. Cambridge opened its arms to our melting pot family, and we fell in love with the city.
After my family and faith, public service has been my calling. In addition to work in the private sector, I've spent many years living and working in the former Soviet Union, including a USAID funded democracy development project in Central Asia. I also have experience with state and local government; my most recent work has focused on improving public transportation planning, access, and equity.
I believe it is important to create a strong community with active business and research. Cambridge must also be a place where families both want and are able, to live and build vibrant neighborhoods. Our teachers, firefighters, young families and multi-generation residents are all too often priced out of our community. We need to fix this.
We also need to fix intersections, sewers, potholes, children's play equipment and more. When I come to your door, I hope you will share with me your thoughts and ideas for Cambridge.
– Josh Burgin